No Gloom At The Inn
.
Sendai is looking more and more Christmassy as the days wear on which perks me up and I catch myself humming or whistling Carols more frequently. The
Pika-Pika Pageant
(or as it's formally called, "
Sendai Pageant of Starlight
" is in full swing with
Jozenji
Street's
zelkova
trees lit up, the skating rink and all kinds of other energy-wasting celebrations. (I really hope that all the power wasted on illumination doesn't kick us in the ass next month and we consequently suffer blackouts.)
In front of the station,
Kirin
Beer Christmas trees and Penguins (shouldn't they be at the South Pole?) are everywhere.
What appears to be a truly worthy cause is a ソックモンキープロジェクト (Sock Monkey Project) that is in the lobby of
Parco, Sakurano
and other Department stores. Handcrafted and presumably going to charity, these cute simians adorn a few Christmas trees around the city. I especially like the long legged squidlike ones.
Of course all kinds of Santa-clad characters can be find in the UFO-Catch cubicles from sexy
Anime
characters to Russian rabbits. I snapped pics of a few.
Yet amongst all this cheer and glee and brightness and joy, I still managed to find something a little bit eerie to fit the mood for
Creepmas
.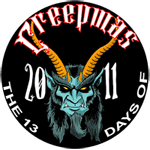 That's right, my favourite bear,
Gloomy
, with his blood-drenched claws and blood-smeared fangs is also getting into the Christmas spirit by wearing his Santa gear!